Questions or Comments? Email Us
How You Can Help
Although this effort has been widely supported through the generosity of the public, we realize that economic times have had a severe impact on everyone. We sincerely appreciate the compassion and support that has kept this important mission going. Please help us additionally if possible by spreading the word so that those in a position to help may do so. Thank you for supporting our troops and their children.
You can also help us by voting in a contest that will bring us $2500 if we win. See the bottom of the home page for more information on where you can vote.
For a donation of $5 or more we will send you an I Support Our Troops tag you can proudly wear. This is a non-profit effort so all contributions are tax deductible. Please make your checks payable to Kids Charities of the Antelope Valley and mail it along with this Donation Form. You can also donate online through PayPal using the button to the right.
Have a vehicle you no longer need and are looking to get rid of? You can donate it to charity and have the proceeds benefit Dog Tags for Kids. You may get a better deal than a trade-in and provide lots of smiles while doing so. It's simple, just submit a Vehicle Donation Form and someone will contact you to make arrangements.
Checks can be made payable to one of the following addresses, or use this downloadable Donation Form. You will need Acrobat Reader to view or print this file.
Kids Charities of the Antelope Valley
C/O 1st Place Awards
1209 W. Avenue K
Lancaster, CA 93534
(661) 940-7624
Kids Charities of the Antelope Valley
PO Box 183
Vicksburg, Mi 49097
You can also donate online with PayPal using the button to the right!

Letters and Quotes
"...We have a ton of soldiers here, who come into our police station and see the 'LOVE DAD' dog tags. We give them out like candy and the soldiers always come back and tell us the praises they get from thier families about the dog tags...'How neat it is', 'What a good idea, who thought of it?', 'The kids take them to school and show as show and tell'....stuff like that. A couple of our soldiers have got them from you guys and they run out real fast....."

SSG DAVID REID, Bagram Airfield
The VFW endorses the program!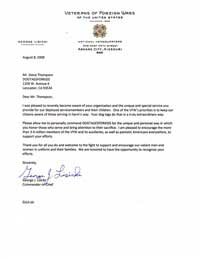 The Dog Tag Totals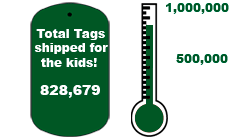 This graph represents the tags that have been sent. Please help us reach the top!.
Sponsors
Favorite Links