Questions or Comments? Email Us
Request Dog Tags
The generosity of the public in supporting this effort is what enables us to send these tags. We regret that we are unable to provide every service member with tags, and must restrict the locations to the greatest areas of conflict, Iraq, Kuwait and Afghanistan. We appreciate everyone's understanding. Thank you for helping us continue to support the troops and their families
Please note. Though we are continuing to fill requests for tags, please understand that we can not guarantee specific colors. For more information, please see the notice on our home page. Thank you for your understanding.
If you would like dog tags sent to your unit please fill out the form below. We usually send 135 tags at a time, but please order just one tag per child. If you need more than that amount for your unit, please let us know and we will do our best to accomodate everyone. Tags can be from either mom or dad. If you have any stories or pictures you would like to share please send them along, we'd love to post them!!!

NOTE: We will respond to most requests with in 48 hours. If you do not hear back from us, please feel free to send us an email at
Letters and Quotes
"...We have a ton of soldiers here, who come into our police station and see the 'LOVE DAD' dog tags. We give them out like candy and the soldiers always come back and tell us the praises they get from thier families about the dog tags...'How neat it is', 'What a good idea, who thought of it?', 'The kids take them to school and show as show and tell'....stuff like that. A couple of our soldiers have got them from you guys and they run out real fast....."

SSG DAVID REID, Bagram Airfield
The VFW endorses the program!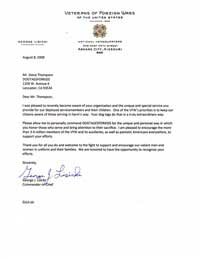 The Dog Tag Totals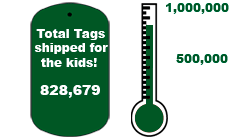 This graph represents the tags that have been sent. Please help us reach the top!.
Sponsors
Favorite Links